About Stumbling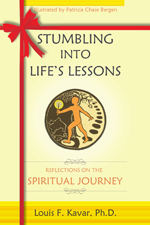 Stumbling into Life's Lessons is a collection of essays written by the Rev. Louis Kavar, Ph.D. as he moved from a fast-paced life in administration to a life characterized by more focused spiritual practices.
There are spiritual reflections about Thanksgiving, Christmas, New Year, and other holidays in my latest book. Whether you are looking for a great read yourself or a meaningful gift for family and friends this holiday season, Stumbling into Life's Lessons is a great choice.
Themes explored in Stumbling into Life's Lessons include:
Role of spirituality in personal growth
Spiritual understanding of ecology and environment
Integration of spiritual practices into professional life
Challenges from slowing pace of life
Stumbling into Life's Lessons invites you to integrate spirituality into your daily life and create positive changes and re-organization enhancing your quality living.


| | | |
| --- | --- | --- |
| | | Stumbling into Life's Lessons is avaliable as hardcover, paperback and ebook on Amazon.com, Barnes & Noble or special order from your local bookstores. |
About Lou
The Rev. Louis Kavar, Ph.D., is a faculty member in psychology at Capella University. He is an ordained minister in the United Church of Christ(UCC). Kavar holds a master in spirituality (Duquesne University) and a doctorate in counseling (University of Pittsburgh). He lectures internationally and his publications include The Good Road: The Journey Along a Spiritual Path.
Visit my website for more